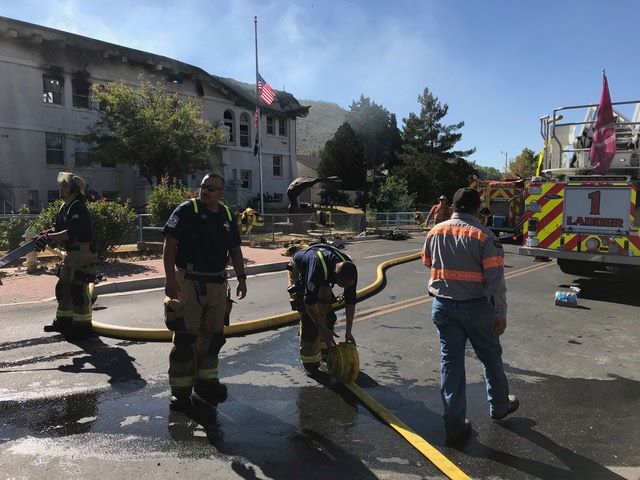 UPDATE- The preliminary investigation is complete. Arson is ruled out. No evidence of arson nor criminal activity as been found.
-Early on Wednesday morning, the Bisbee City Hall caught fire and burned. The structure has been declared a crime scene and the Alcohol, Tobacco and Firearms investigators have been called for assistance.
According to Cochise County Sheriff Mark Dannels:
Bisbee City Hall Fire Update
10-12-2017 1000 hours
The Cochise County Sheriff's Office requested the assistance of Alcohol, Tobacco, and Firearms in the Bisbee City Hall Fire due to the size of the building and the damage incurred.
ATF has significant assets to devote to the investigation as well as expert personnel who deal with fire investigations as part of their normal assigned duties.
Sheriff Dannels said, "We asked for assistance from ATF so our investigation will be more efficient with added resources that are not available in our office. Our fire investigator is currently working with a structural engineer and two ATF agents conducting an initial assessment of the interior building and determining what equipment and resources will best be utilized for this investigation. The process will be slow and methodical due to safety concerns and there will be some wait times as the investigation progresses. We appreciate the assistance that is being provided and the cooperation of all City officials and personnel during this time."