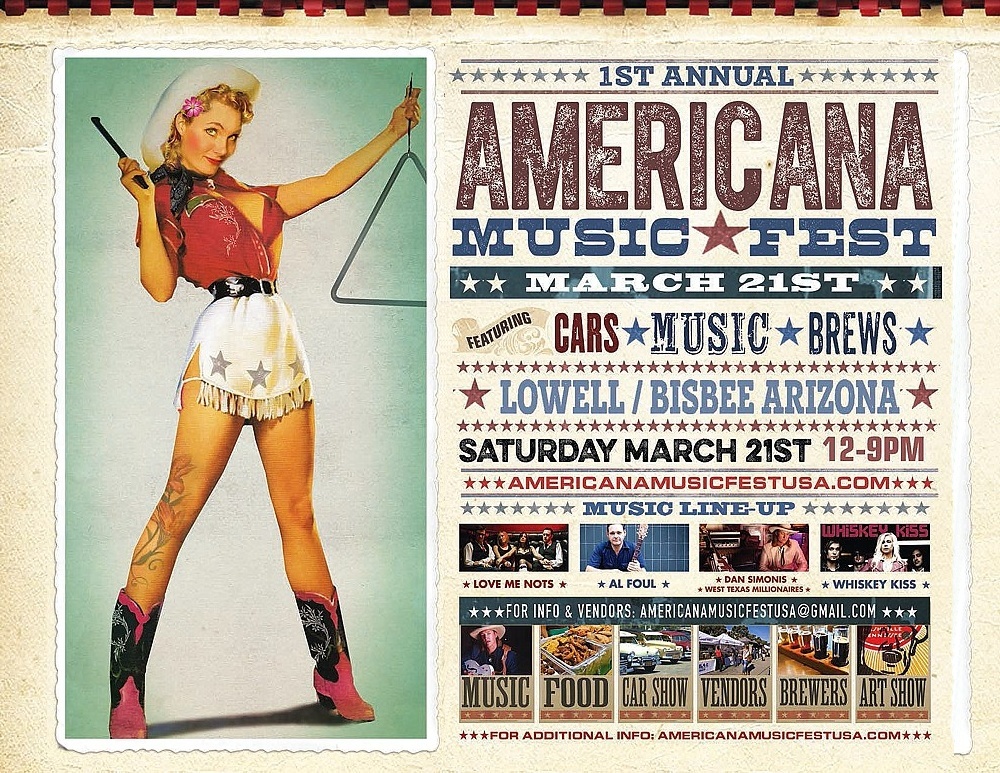 Lowell Arizona comes alive with the first Americana Music Fest USA, on Saturday March 21st, 2015 from 12 noon till 9pm. Proceeds will benefit the historical restoration of Lowell. Motorcycles, cars, art, brews, and food will be on display along with all day music from many local and regional groups.
The Lowell Americana Project celebrates another era, when Bisbee shops were locally owned by community merchants, and every Bisbee resident shopped in Lowell.
Celebrating Bisbee's unique cultural heritage motivates the founders:
The Lowell Americana Association is dedicated to the preservation and promotion of iconic American design and celebrating the culture of small town life.
Our team is made up of a group of like minded volunteers who are enthusiastic about preserving a vanishing landscape.
 We are resurrecting a "postcard" of small town America on Erie St in the Lowell district of Bisbee AZ, returning the street to its 1940's – 50's glory.
The project has already begun recreating the 1,000-foot stretch of Erie St.  With vintage cars parked along the street, restoring the old gas station on the corner and returning hand-painted signs to the historic buildings, the effort is drawing a steady steam of visitors from from across the country.
The Americana Music Festival will be held annually to help raise funds to further the preservation of  our cultural heritage for future generations.
The Lowell Americana Association will host the festival March 21st 2015 on Erie Street in Lowell's historic district of Bisbee.
The music roster:
Local Stage
12 p.m. to 1 p.m. Becky Reyes
1 p.m. to 2 p.m.Terry Wolfe
2 p.m. to 3 p.m Little Sugar
3 p.m. to 4 p.m.Rowdy Johnson
4 p.m. to 5 p.m. CJ Fletcher
5 p.m. to 6 p.m. Green Wire
6 p.m. to 7 p.m. Big Demon
Lowell Stage
1 p.m. to 2 p.m.  Carlos Arzate
2:15 p.m. to 3:30 p.m. Whiskey Kiss
3:45 p.m. to 4:45 p.m. Dan Simonis and the West Texas Millionaires
5 p.m. to 6:15 p.m. Moonlight Howlers
6:30 p.m. to 7:45 p.m. Love Me Nots
VIP Stage
12:30 p.m. to 1:30 p.m. Sean Trachman
2 p.m to 3:30 p.m Sally Jaye
4 p.m. to 5 p.m. Pick and Holler
5:30 p.m. to 6:30 p.m. West Texas Millionaires unplugged
7 p.m. to 8 p.m Al Foul