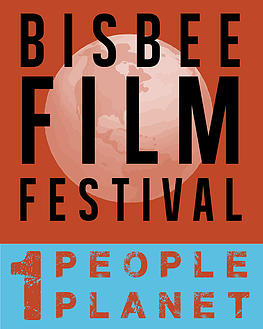 The Bisbee Film Festival – One People: One Planet is on schedule with ecological films from all over the world.
The Overnighters, USA, 2014, 100 mins
When hydraulic fracturing unlocks a vast oil field in North Dakota's Bakken shale, tens of thousands of unemployed men descend on the state with dreams of six-figure salaries.
$6.00
Emptying the Skies, USA, 2013, 78 mins
Based on a magazine essay written by noted best-selling novelist Jonathan Franzen for The New Yorker and widely republished around the world, 'Emptying the Skies' chronicles the rampant poaching of migratory songbirds in southern Europe.
IN PERSON: DR. PAUL GREEN,
Tucson Audubon Society
$6.00
BUY TICKETS
I am Eleven, Australia, 2012, 94 mins
Do you remember when you were 11? Australian filmmaker Genevieve Bailey traveled the world for six years talking with 11-year-olds to compose this insightful, funny and moving documentary portrait of childhood.
FREE !
Them!, USA, 1954, 94 mins
Considered one of the very best science-fiction films of the 1950s and also one of the most intriguing openings in science fiction cinema. Them! was one of the first fiction thrillers to issue a warning about the dangers of nuclear testing and radioactivity.
IN PERSON: DR. BRADLEY SCHAUER, University of Arizona
Film and Post Screening Champagne and Chocolate Party.
$35.00 ($37.22 w/service fee)
School's Out: Lessons from a Forest Kindergarten, USA, 2013, 36 mins
IN In Switzerland's Langnau am Albis, a suburb of Zurich, kindergarteners go to school in the woods every day, no matter the weather. The filmmakers follow the forest kindergarten through the seasons of one school year.
IN PERSON: DIRECTOR LISA MOLOMOT
$6.00
Shark Girl, 2014, Australia, 2014, 58 mins
This is an inspiring story about a passionate fight to save the creature most of us fear-the shark.
$6.00
University of Arizona Film & Television Student Showcase, 57 mins
A selection of audience favorites and award-winning shorts made by University of Arizona School of Theatre, Film and Television students.
IN PERSON: BRIAN BOROWEIC AND FIONA FOSTER
FREE !
GET TICKETS
River of Bears, USA, 2014, 35 mins
Every summer at the peak of the salmon run, more brown bears congregate at McNeil River, Alaska, than anywhere else in the world.
IN PERSON; FILMMAKER JONATHAN VANBALLENBERGHE
$6.00
Tatanka, USA, 2014, 83 mins
Kit Bricca was a leader of the Bay Area protest movements of the 1960s and 70s with a fierce passion for social justice, but found the transition from activist to breadwinner a challenging one.
IN PERSON: JABOC BRICCA
$6.00
In the Steppes of Ghenghis, USA/Mongolia, 2012, 59 mins
Life on the steppe is almost the same as it was during the days of Genghis Khan. With beautiful cinematography, this focuses on a year in the life of Khoroldai, a nine-year old girl who loves horses.
IN PERSON: DIRECTOR MIKE MAJOROS
$6.00
Tierra Brillante / Brillant Soil, Mexico, 2011, 93 mins
Thousands of artisans in Mexico traditionally use lead in their glazed pottery, not realizing the health damage that this toxic element causes. Herlinda, a Purépecha indigenous potter in Michoacán, is one of the few artisans in her community who uses alternative lead-free glazes.
IN PERSON: PRODUCER OMAR FOGLIO
$6.00
Getting Back to Abnormal, USA, 2014, 90 mins
A provocative mix of race, corruption and politics in post-Katrina New Orleans, this film tells the story of the re-election campaign of Stacy Head, a white woman with a jaw-droppingly politically incorrect style, in a city council seat traditionally held by a black representative.
IN PERSON: PEABODY AWARD WINNING FILMMAKERS LOUIS ALVAREZ & ANDY KOLKER
$6.00
Before You Know It, USA, 2014, 110 mins
The subjects of Before You Know It are no ordinary senior citizens. They are go-go booted bar-hoppers, love struck activists, troublemaking baton twirlers, late night Internet cruisers, seasoned renegades and bold adventurers.
IN PERSON: DIRECTOR PJ RAVAL
$6.00
A Tribute to Les Blank: An American Treasure
A brilliant filmmaker- Robert Ebert
Les Blank (1935-2013) made poetic documentaries for nearly fifty years – elegantly disappearing with his camera into cultural spots rarely seen on screen. He won numerous awards, including a lifetime achievement award from the American Film Institute, and his work has been presented in numerous retrospectives internationally. We are delighted to present two of his films and two short works made by his son, Harrod Blank. Harrod will introduce the films, and guest filmmakers will discuss his impact on documentary filmmaking.
IN PERSON: HARROD BLANK
$8.00 ($9.27 w/service fee)
Adventures in Nature Films Talk, 90 mins, 16 and older
Filmmaker Jonathan VanBallenberghe shares his experiences filming, editing, and selling wildlife stories. He will discuss how wildlife films have evolved over time. For attendees looking for tips and tricks of the trade, VanBallenberghe will recommend equipment for wildlife cinematography and discuss how online sites such as YouTube open up opportunities for filmmakers at all levels.
FREE !
A BLANK SLATE: Developing a Career in the Film Industry, 60 mins
Born and raised in Bisbee, filmmakers Fiona Foster and Brian Borowiec found their passion for film while growing up there. Both went on to pursue Fine Arts degrees from the University of Arizona in their highly competitive film program, before moving to Los Angeles. In this talk, they will discuss their early interest in film, film school, and their experiences working in the film industry. The talk will conclude with a Q&A.
Presented by Fiona Foster and Brian Borowiec
FREE !