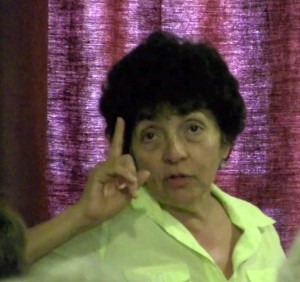 A little over a year ago, Bisbee Mayor Adriana Badal shared her vision for Bisbee's economic future. On July 13th 2013, Mayor Badal spoke at an open forum at the old Bisbee YWCA building. Mayor Badal said that planning for transportation and industry was hard, so she had a plan to bring about an economic renaissance  with four days of films, a hiker-biker trail, and a developer flying overhead with a genuine filmmaker.
Current mayoral candidate, David Smith was also in attendance, and agreement.
Mayor Badal states that bringing 'new industry' to Bisbee is difficult, because of transportation issues that include no railroad, and limited highway proximity. She states, "So how do we get stuff in and how do we get stuff out when we're talking about industry?"… "For me to bring new industry to Bisbee is going to be difficult." She is told by a movie director that "you guys have a movie set… You are the studio…" (No its not! Its a location!)
Mayor Badal mentions that a plane is flying in the clouds with Bisbee empresario Scott Ries and filmmaker Allison Otto. "This morning you may have heard a plane overhead. That was Scott Ries, the owner of the Bisbee Coffee Company building, with Allison Otto, a filmmaker who called me in."
The mayor hinges her plans for Bisbee's future on a $360,000 grant from the Tohono O'odham Nation, for film and video seminars based on smartphones that teens like.
Its a long shot, but Bisbee's future is flying overhead, and that future needs more grants, more teens, and a bit of cellphone pluckiness for some Bisbee apple pie.
This economic future will be made more viable with a trail for hikers and mountain bikers that loops around the Mule Mountains, through the Gulch and along Juniper Flats. Imagine the pride! A bike trail that brings revenues in the form of big spending mountain bikers, hikers and their families, bringing back Bisbee's economy as they spend their dollars and trek our trails.
A year later, these dreams have flown away, with Allison Otto's production.
UPDATE – A complete slate of films that have ecological themes has been added. Our economic future has finally been secured.