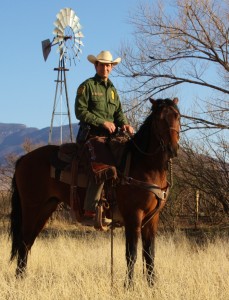 Several sources report that Border Patrol Agent Nicholas Ivie was most likely killed by a gun from a fellow agent. NBC and several sources report that "accidental gunfire from another agent who responded to the same scene, state and federal officials told NBC News on Friday.
The conclusion is based on an analysis of the ballistics, the lack of evidence of other criminals in the area at the time, and other factors, the sources said."
"While it is important to emphasize that the FBI's investigation is actively continuing, there are strong preliminary indications that the death of United States Border Patrol Agent Nicholas J. Ivie and the injury to a second agent was the result of an accidental shooting incident involving only the agents. The FBI is utilizing all necessary investigative, forensic, and analytical resources in the course of this investigation. We thank the United States Customs and Border Protection, United States Border Patrol, and the Cochise County Sheriff's Office, for the challenging work they do every day and for their ongoing cooperation in this difficult matter. At the appropriate time further information will be provided, but while the investigation continues it would be inappropriate to comment any further at this time.
"The FBI extends our deepest sympathy and condolences to the family, friends and co-workers of Nicholas Ivie and to our partners in the United States Border Patrol."