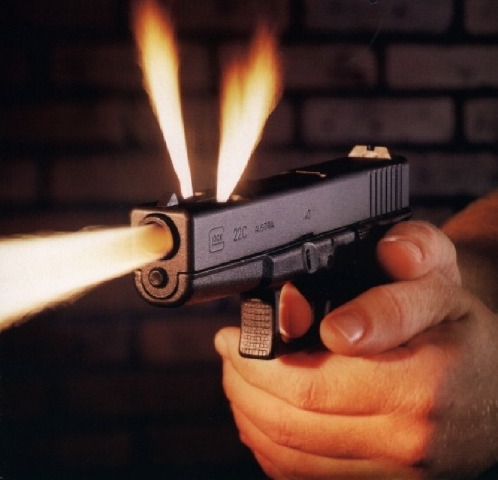 Gabrielle Giffords and Gaston Glock are forever linked to both American history and culture.
The tragedy of Gabrielle Giffords'  near assassination in the Tucson Massacre is complex and full of missed opportunities. Gabby's personal firearm is a Glock, as was the shooter's weapon.
Amy Goodman and Juan Gonzales interview Paul Barrett, who wrote "Glock: The Rise of America's Gun."

JUAN GONZALEZ: It was just over a year ago that Arizona Congresswoman Gabrielle Giffords was shot through the head when she was attacked during a meeting with constituents outside a Tucson supermarket. The shooting left six people dead and 13 others injured, including a nine-year-old girl, a Giffords aide and a federal judge. Giffords spent much of the past year in rehabilitation regaining the ability to speak and walk, and on Sunday, after an emotional follow-up meeting with the attack's survivors, she announced her plans to leave public office.
REP. GABRIELLE GIFFORDS: Thank you for your prayers and for giving me time to recover. I have more work to do on my recovery. So, to do what is best for Arizona, I will step down this week. I'm getting better every day. My spirit is high. I will return.
JUAN GONZALEZ: In a bittersweet farewell, Representative Giffords claimed her seat in the House of Representatives Tuesday night and was embraced by President Barack Obama before he delivered his annual State of the Union address. Yesterday, she returned to the House to cast a last vote for legislation that levies new penalties on traffickers who use small aircraft to smuggle drugs across the U.S. border from Mexico. In a rare display of bipartisanship, the vote on the bill was 408 to zero.
Then, in a tearful ceremony, Congresswoman Debbie Wasserman Schultz, a South Florida representative and close friend of Giffords, read Giffords's resignation letter.
REP. DEBBIE WASSERMAN SCHULTZ: "The tragic January 8th shooting in Tucson took the lives of six beautiful Americans and wounded 13 others, me included." I'm sorry. "Not a day goes by that I don't feel grief for the lives lost and so many others torn apart. I have given all of myself to being able to walk back onto the House floor this year to represent Arizona's 8th Congressional District. However, today I know that now is not the time. I have more work to do on my recovery before I can again serve in elected office. This past year, my colleagues and staff have worked to make sure my constituents were represented in Congress. But if I can't return, my district deserves to elect a U.S. representative who can give 100 percent to the job now."
AMY GOODMAN: That was South Florida Representative—South Florida—Debbie Wasserman Schultz, reading Giffords' resignation letter Wednesday on the floor of the U.S. House.
As Giffords steps down, we look today at the iconic semi-automatic pistol used in her attack. Called a "Glock," the gun drew attention over the past year after the local Republican Party where she was shot planned to raffle off the same brand of gun used in the Tucson shooting rampage. Giffords herself has not publicly adjusted her stance as a gun rights advocate.
The Glock has been used in a number of the worst mass shootings in U.S. history: Virginia Tech, which left 32 people dead in 2007, and at Northern Illinois University, where five people were killed in 2008. Still, gun-control advocates have had little success calling for restrictions on Glocks or the large-capacity ammunition magazines they can accommodate.
For more, we're joined by Paul Barrett, who literally wrote the book about the Glock. Just out this month, it's called Glock: The Rise of America's Gun. Paul Barrett is also assistant managing editor at Bloomberg Businessweek.
Paul, welcome to Democracy Now!
PAUL BARRETT: Thanks, Amy.
AMY GOODMAN: Talk about this pistol that wounded so gravely Gabby Giffords and killed six others.
PAUL BARRETT: Yeah, this is a—it was a Glock 19, as you said, semi-automatic pistol, mostly made out of plastic. And its chief feature is the large ammunition capacity. In Tucson, the killer went into a Main Street gun store and was able to buy a 33-round magazine. This magazine is so large, it actually sticks out the bottom of the handle of the gun, of the grip. And you can fire it very quickly, and you can get off that large number of rounds before you have to reload. And in fact, that's exactly what happened. He got off all those rounds, emptied his magazine, and it was only then that people were able to subdue him.
Along with the litany that you recited having to do with the Glock's prevalence in America, we should also add that two-thirds of all American police departments use this gun. So this is not just a bad guy's gun, this is also the good guy's gun. This is everyone's gun. And that's why I find it so striking. It really has redefined the handgun market in the United States.
JUAN GONZALEZ: But Paul, in your book, which, I have to tell you, is a fascinating read—it reads like a novel more than a study of a gun.
PAUL BARRETT: Thank you.
JUAN GONZALEZ: But those who are not gun enthusiasts—
PAUL BARRETT: Yeah.
JUAN GONZALEZ: —would not know that this is a relatively new phenomenon.
PAUL BARRETT: Absolutely.
JUAN GONZALEZ: And the story of this gun and the fact that the inventor, Gaston Glock, knew virtually nothing about guns before he created the Glock. Could you talk about that history?
PAUL BARRETT: You're exactly right. Gaston Glock was a manager of a radiator factory outside of Vienna. On the side, he ran a metal shop in his garage that his wife oversaw during the day. But one of the products he made in the metal shop was knife blades for the Austrian military. This gave him contacts in the Ministry of Defense. And when Austria decided to replace their World War II-era sidearms with a new gun, Gaston Glock audaciously put his hand up and said, "I'd like to try to design that gun." People laughed at him in Austria.
JUAN GONZALEZ: And this was only in the early 1980s, right?
PAUL BARRETT: 1980, right. In 1982, he—after gathering some of the best handgun experts together and asking them for what elements of a gun would be best suited for the military, he came up with this design. And his huge advantage was the disadvantage you just identified: he started with a blank piece of paper. Rather than telling his customer what they wanted, he listened to what they were looking for. And he came up with this very modern, very futuristic-looking, mostly plastic gun, that was inexpensive to produce, so he has—his profit margin was high; very easy to use—there are no complicated safety gizmos, and we could talk about that some more, because that has a downside, as well; has this large magazine capacity; and it's very durable, which is very appealing to a military or a police department, which is buying the guns en masse.
JUAN GONZALEZ: And it has very few parts, that have separate parts that have to be manufactured.
PAUL BARRETT: Absolutely, absolutely. It had half or a third of the parts of comparable guns. There's just less to break down. And the parts also come in modules, so you can pull them in and out. You can literally mix and match the parts. This was a very practical product, similar to the Japanese cars that showed up in the United States in the '70s and '80s and had so much success against Detroit's cars. Well, in the same way, the Glock came to the United States and pushed aside Smith & Wesson, the incumbent gun company that, until that time, was dominant.
AMY GOODMAN: So American police use Austrian guns.
PAUL BARRETT: That's absolutely correct.
JUAN GONZALEZ: And you tell the story of how that happened. How did all these police departments adopt this gun?
PAUL BARRETT: Well, in addition to his brilliant starting from scratch with a blank piece of paper, Glock had phenomenal timing, just good luck. He showed up in the United States saying, "I've got the pistol of the future," at precisely the moment that police departments in this country felt that they were, as they put it, out-gunned by the bad guys. This is the mid to late '80s. Crime levels are going up in big cities, fueled in many cases by crack cocaine violence, gangs shooting at each other. And the police just felt that the traditional six-round Smith & Wesson .38-caliber revolver was kind of yesterday's weapon. They wanted tomorrow's weapon. They wanted to jump ahead of the bad guys. And Glock had this product that seemed so appealing. And within a space of just a few years, you went from a completely—a Smith & Wesson gun culture to this semi-automatic pistol gun culture, and Glock was out there in front.
AMY GOODMAN: We're going to go to break, and then we're going to come back to our discussion with Paul Barrett. He is author of the new book, Glock: The Rise of America's Gun, also assistant managing editor at Bloomberg Businessweek. This is Democracy Now! Back in a minute.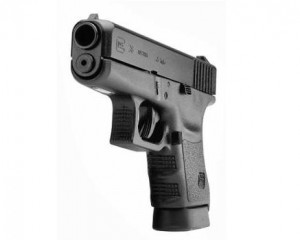 [break]
AMY GOODMAN: Our guest is Paul Barrett. His book is called Glock: The Rise of America's Gun. We wanted to look at how Hollywood deployed the Glock. The Glock pistol has been referenced in many Hollywood films and songs. Let's turn to a clip from the film U.S. Marshals featuring Tommy Lee Jones and Robert Downey, Jr.
CHIEF DEPUTY MARSHAL SAMUEL GERARD: [played by Tommy Lee Jones] Take off your sunglasses.
SPECIAL AGENT JOHN ROYCE: [played by Robert Downey, Jr.] Why?
CHIEF DEPUTY MARSHAL SAMUEL GERARD: So I can see your face.
SPECIAL AGENT JOHN ROYCE: Hi.
CHIEF DEPUTY MARSHAL SAMUEL GERARD: How did you pull this duty?
SPECIAL AGENT JOHN ROYCE: Your fugitive murdered two of my friends. I volunteered.
CHIEF DEPUTY MARSHAL SAMUEL GERARD: You ever make a fugitive arrest before?
SPECIAL AGENT JOHN ROYCE: No. Planning to, shortly.
CHIEF DEPUTY MARSHAL SAMUEL GERARD: You have a weapon?
SPECIAL AGENT JOHN ROYCE: Yeah, a big one. How about you?
CHIEF DEPUTY MARSHAL SAMUEL GERARD: You sure you want to get cute with me? You have a backup weapon?
SPECIAL AGENT JOHN ROYCE: Never had the need.
CHIEF DEPUTY MARSHAL SAMUEL GERARD: Get one. Keep that in your suit unless I tell you to take it out. Get yourself a Glock. Lose that nickel-plated sissy pistol. OK, people, let's move on this John Doe. I'm not having any fun here. You know, how cranky I get when I don't have any fun.
AMY GOODMAN: Paul Barrett, Hollywood deploys Glock. Talk about how it was publicized.
PAUL BARRETT: Within just a few years of its appearance here, sophisticated Hollywood prop masters, the guys who decide which weapon to put in the actors' hands, realized that the Glock was catching on. And because they're good at their job, they started casting the Glock, just as we just saw. And screenwriters realized that the Glock was a very evocative name and was beginning to symbolize this kind of tough, everyman image that you saw Tommy Lee Jones reflecting there. I mean, "Get rid of your nickel-coated sissy pistol. Get yourself a Glock. That's a man's gun." And this was priceless advertising for any product, and especially for a gun. And the amazing thing is, Glock didn't even have to pay for this. All they had to do was make sure that they would deliver the guns to the prop masters, and they'd put it in for free. So, product placement with guns, it turns out, is—costs you zero.
JUAN GONZALEZ: Well, that's the amazing thing, when you think about the arms industry—
PAUL BARRETT: Yes.
JUAN GONZALEZ: —and all of these large companies, and here you had this company that came out of nowhere to develop this gun. And you talk about the—you start the book with that famous—the worst day in the history of the FBI—
PAUL BARRETT: That's right.
JUAN GONZALEZ: —when a shootout occurred in Florida, as I recall—
PAUL BARRETT: Right.
JUAN GONZALEZ: —and several FBI agents were killed. And how true was this viewpoint of law enforcement that they were being out-gunned by the criminals? And how much of that was really urban hype to justify new acquisitions of weapons?
PAUL BARRETT: There was truth and hype. There was both. A number of the agents who were involved in that notorious gunfight, April 1986, the Miami shootout, did come armed with Smith & Wesson revolvers, and they did, in the heat of battle, find it difficult to reload their weapons, and that probably did heighten the number of casualties.
On the flip side, there was some hype to it, too, because that wasn't the only problem. This FBI rolling stakeout squad, as brave as they were, they arrived for this fight ill-prepared. Many—several of them didn't wear armored vests. They could have brought military-style weapons. They knew they were going after a couple of homicidal maniacs. And so—
JUAN GONZALEZ: Who were both veterans of special operations in the military.
PAUL BARRETT: Who both had—who both had advanced military training, which made them much more lethal, as well. So, the mythology that surrounds that incident is exaggerated. So there's both truth and myth. And, you know, the notion that police get into these massive gunfights all the time is of course exaggerated. The typical police gunfight at that time involved two or three rounds, so that if you had a Smith & Wesson revolver, six rounds would generally be enough. But on the other hand, cops want to feel confident on those rare occasions when they are confronting genuine bad guys. And that's why the semi-automatic pistol with a 17-round magazine was appealing to them.
AMY GOODMAN: Paul, go back in time. Just give us a quick thumbnail sketch of the history of the Glock.
PAUL BARRETT: Sure. Well, the Glock shows up here in the mid-'80s, as we've said, appeals to the police departments in very short order. But crucially, at that point, it is opposed, by name, by gun-control advocates. When the Glock showed up here, the late muckraking columnist Jack Anderson wrote a series of columns that were syndicated in hundreds of newspapers. Congress held hearings for more than a year about the Glock, about the plastic pistol, which, it was alleged, would be able to defy airport security, because it was plastic, not metal. Now, it turned out that this was—this, too, was a myth, because X-ray machines can pick up a big hunk of plastic shaped like a gun just like they can a hunk of metal. In any event, if it's a magnetometer, the slide on the Glock, the big piece of steel on top, is detectable. And finally, if you're going to do any damage with a Glock, you need bullets, and the bullets, of course, are metal. So, this allegation was a very ill-conceived attack on the Glock by gun-control advocates, whatever your politics are.
And so, what happened was, the Glock, in the space of a couple of years, became notorious and famous. And then the federal government said, "And actually, we have no security concerns about the Glock," and it flooded onto the market. Here in New York, the Glock was banned, by name, by the New York Police Department from 1986 to 1988. No one could have one, cop or civilian, until it was reported by the AP and then the New York Post that the top cop, Benjamin Ward at the time, the police commissioner, was himself carrying a Glock under his suit coat. No one else could have one, but he wanted one. Within a couple of weeks, the New York Police Department dropped its ban, and within a couple of years, the New York Police Department, the largest department in the country, was carrying Glocks.
JUAN GONZALEZ: But there was a debate, even then, over the fact that the Glock—that officers tended to fire more shots, because they had the capacity to do that.
PAUL BARRETT: Yes.
JUAN GONZALEZ: And also that accidents occurred more frequently among police officers than with a revolver.
PAUL BARRETT: Absolutely. And those are really—those are really kind of two separate issues, but both very important. On the accidents front, there is no doubt that when the Glock was introduced, particularly in police departments, where it was being introduced in large numbers all at once, they had problems with accidental discharges. There was even a phenomenon known as "Glock knee" or "Glock leg," which referred to an officer grabbing the gun, putting his finger on the trigger immediately, and, because the trigger pull is very light, shooting himself in the leg or the knee. Most famously, recently, the professional football player Plaxico Burress did exactly that with a Glock in a nightclub.
JUAN GONZALEZ: Something you can't do with a revolver.
PAUL BARRETT: It's much harder to do with a revolver, not impossible. But the trigger pull on a revolver might be 10-12 pounds; with the Glock, five pounds. So you can—there's a huge difference. So that was a problem until police departments improved training and really taught their officers to never put your finger on the trigger unless you're about to shoot. So that's one issue. It was a real issue. It has diminished over time.
The mass shootings of many, many rounds, that remains an issue today. I mean, the Sean Bell case, the Diallo case—I mean, this is something that persists to this day. It's no longer unique to the Glock, because other companies make these same sorts of weapons now, sort of Glock knockoffs. And I think that's a legitimate debate. Again, a training issue, that police officers have to learn not to panic and fire all those rounds, but that's something that is something that police departments have to pay attention to.
AMY GOODMAN: We just interviewed Colin Goddard on Democracy Now!, one of the survivors of the shooting in 2007 at Virginia Tech that left 32 people dead. He now works with the Brady Campaign to Prevent Gun [Violence]. He was featured in the film Living for 32. And I asked him about the power of the National Rifle Association.
COLIN GODDARD: Well, I've only had a limited experience on Capitol Hill, but it's been disheartening to learn of the large number of our elected officials that have the interest of another big business organization, the gun manufacturing industry, and their NRA, the lobbyist group, much more at high priority than the interest of the average American citizen, who is getting shot and getting killed by these guns at a rate much higher than any other modern industrialized country. And I think, you know, a lot of the power is perception and what you perceive power to be, in how much power the NRA has.
But at the same time, you know, we've also been building in states across the country about this issue of, you know, doing background checks on everybody. I think a lot of Americans already think that we do background checks on everybody and are surprised to learn that we don't. So, what we have to do is educate people and say, "Look, this is happening. This is legal. Do you want this to be legal? Is this something that makes you feel safe, when guns are being sold to complete strangers with no background check?" At the minimum, we should be doing a background check. And from my experiences taking the film across the country and speaking in different events, and even speaking last night, a lot of people think that, you know, background checks are something we need to do on all gun sales.
AMY GOODMAN: That's Colin Goddard, who now works with the Brady Campaign to Prevent Gun Violence. Paul Barrett, the power of the NRA?
PAUL BARRETT: The NRA, for my dollar, is the most effective lobbying organization in Washington, period, end of story. They are able not only to, at this point, block any new gun control at the federal level, there's—nothing is happening, nothing is going to happen any time in the future—but they also have the ability to activate their members at the local level to operate in individual states to knock down congressmen who defy them and potentially to create problems, for example, in the 2012 presidential election for President Obama. I mean, it's a real question whether, in certain key states like Pennsylvania and Ohio, which are swing states but also big gun states, big hunting states, whether he'll have a problem with NRA activists at the grassroots level. They're very effective.
JUAN GONZALEZ: And the issue of to what degree, not only for police departments, but for the general public and those who might be prone to gun violence, that this increases the lethal capacity of any deranged individual who's using a Glock versus other types of guns?
PAUL BARRETT: Well, the idea that firepower has increased is beyond debate. The idea that the American gun market is now permeated by these large-capacity magazines, no argument. That's just a fact. And I think that contributes to the likelihood that when a psychopath decides to do his evil work, he's going to have a tool that's more effective. What's important, though, I think, is to separate that horrible social problem from lawful gun ownership. The fact that a particular guy likes to keep large magazines in his basement and never does any harm with them, we need to sort those things out. We need to sort out the crime problem, and then we need to sort out the anomalous crime problem of the mass shootings from figuring out how to allow people who are law-abiding and practice gun safety from owning what they want to own.
AMY GOODMAN: I mean, isn't, for example, the Automatic Weapons Ban, that was sunset under Bush and has never been revived—
PAUL BARRETT: Right, correct.
AMY GOODMAN: —very clear-cut case? I mean, not even hunters use automatic weapons to go after—
PAUL BARRETT: Well, you've got to be careful with this. That was—the so-called Assault Weapons Ban—
AMY GOODMAN: The Assault Weapons Ban.
PAUL BARRETT: —involved semi-automatic weapons. Automatic weapons, or machine guns, are still illegal. You can't walk in and buy them. Semi-automatic weapons just means a rifle that has a magazine, and each time you pull the trigger, it fires a bullet. The Assault Weapons Ban was a really poorly crafted piece of legislation. It purported to ban these military-style rifles, but it did—it only banned 19 types of them by name, and it left all kinds of loopholes. It grandfathered in all the existing equipment that was already on the market. And, for example, Glock, which was potentially affected by the Assault Weapons Ban, because it also banned large-capacity magazines, anything over 10 rounds, well, Glock saw this law coming from a mile away. They ran their factory 24 hours a day, seven days a week, for years before the law was actually elected. And they had a huge stockpile of exactly the equipment Congress tried to ban, which then flooded the market as soon as the ban came into effect. So, if you're going to pass gun-control laws, you have to make sure that they actually can accomplish what they set out to do.
AMY GOODMAN: Fast and Furious, the program that has gotten the Obama administration in a lot of trouble?
PAUL BARRETT: Yeah.
AMY GOODMAN: Explain it and how Glock fits in with this story.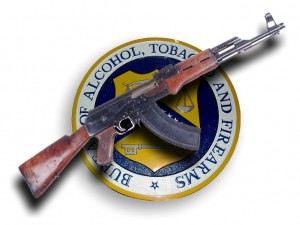 PAUL BARRETT: Right. Fast and Furious, of course, is the misbegotten investigation in Arizona involving the ATF, where the ATF allowed gun traffickers to buy military-style rifles, for the most part, and take them across the border into Mexico. A couple of these guns turned up at the murder site of a Border Patrol agent and has been very embarrassing for the Obama administration. There are some pistols, some handguns, in the mix there, but that's mostly a story about these military-style rifles that are preferred by the Mexican gangs, and so Glock has not really, itself, as a brand, been touched by that scandal. But that's a terrible situation that raises very serious questions, I think, about the competence of the ATF.
JUAN GONZALEZ: And you raised earlier the rise of knockoffs of the Glock—
PAUL BARRETT: Absolutely.
JUAN GONZALEZ: —by American manufacturers.
PAUL BARRETT: Yes.
JUAN GONZALEZ: What has been the response of the big gun companies here, of Smith & Wesson, Colt and the others, to this rise of the Glock?
PAUL BARRETT: At first they were were disdainful. And that was very much to their commercial disadvantage, because they basically lost a huge chunk of the market, just the way Detroit lost a huge chunk of the market when they ignored the threat from Japanese and other import cars in the '70s and '80s. Then they tried to imitate it. And Glock immediately sued Smith & Wesson for patent infringement and was successful, and Smith & Wesson had to back off. And then, finally, they basically matched it in quality. And today, just to stick with Smith & Wesson, Smith & Wesson produces a gun that, to the non-gun person's eye, looks an awful lot like the Glock. And I'm told by people who know more about the technology than I do that it's just as good. It's called the Smith & Wesson M&P, and "M&P" stands for "military and police." Again, you can see Smith & Wesson trying to appeal to that same tough law enforcement, military aura that Glock has done so well to capture.
AMY GOODMAN: Gaston Glock was—well, someone attempted to assassinate him.
PAUL BARRETT: Yeah.
AMY GOODMAN: Explain what happened and who he is.
PAUL BARRETT: Glock, the company, has been shot through with intrigue and controversy since very early on. This company made a ton of money. It was run by Gaston Glock, the founder. And while he was a quite a good engineer, he was not so great on the management side. He chose, for example, a financier from Luxembourg to set up shell corporations for him all around the world to minimize taxes, a very common international, global, you know, corporate practice. GE, of course, is the best known for that so-called "transfer pricing" gambit. Anyway, Glock wanted to do it, too.
It turned out, however, that the shell company artist, whose nickname was "Panama Charlie," because he did so much work in Panama—it turned out he set up a few extra shell companies so that he could siphon off some of Glock's profits to himself. Glock found out about this, went to Luxembourg to confront him, and his financier arranged for his contract assassination. Unfortunately, it was about the worst contacted hit I've ever read about.
AMY GOODMAN: You mean he tried to use a Smith & Wesson?
PAUL BARRETT: No, he didn't try to use a Smith & Wesson. Worse than that, he hired a former French Legionnaire and retired professional wrestler, who confronted Glock in an underground parking garage and began bashing him on the head with a rubber mallet. The plot was apparently to make Gaston—to make it appear that Gaston Glock had fallen down a flight of stairs in this garage and that there had been no, you know, assassination at all. Anyway, Glock, 70 years old at the time, is a very tough old bird. He fights back. When the cops arrive, they find these two older gentlemen sprawled on the floor of the parking garage, and Glock has survived. The financier who tried to have him whacked is now in maximum security prison in Luxembourg.
AMY GOODMAN: Paul, you were banned from the gun show. Where does it take place and why?
PAUL BARRETT: The SHOT Show, the Shooting, Hunting, Outdoor Trade Show, takes place every year in Las Vegas. And Glock, for whatever reason, is not so thrilled about the appearance of my book. And while I attend this trade show on a regular basis and am issued press credentials on a regular basis, the company succeeded in getting my press credentials rescinded this year, so that I didn't have the little press tag that would allow me to go onto the exposition floor, which of course, just like, you know, so many things when you try to censor somebody, it only encourages them to be more aggressive. And believe it or not, I got done what I needed to get done, in terms of seeing my gun industry contacts. And in fact, there was quite a bit of outrage at the trade show over the fact that Glock had tried to ban me. So, as far as I'm concerned, they really kind of did me a favor.
AMY GOODMAN: Well, I want to thank you very much, Paul Barrett, for joining us. He is author of the book Glock: The Rise of America's Gun. He's assistant managing editor of Bloomberg Businessweek.
Courtesy of Democracy Now.