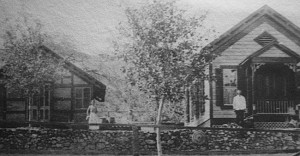 The budget cuts being proposed by the Arizona Legislature could close dozens of rural hospitals, including the Copper Queen Community Hospital in Bisbee.
Copper Queen's CEO, Jim Dickson is alarmed that the proposed cuts could impact his patients and the community at large. KOLD has the story and video:
The Arizona state budget is an investment in our future schools, hospitals, police and firefighters. Without an emergency room available in Bisbee, thousands of people will risk their lives if they continue to live in the Bisbee area.
Taxes to provide schools, hospitals, police and firefighters are the dues we pay to maintain our communities. Cut taxes, and you can kill rural communities, leaving a legacy of boom and bust ghost towns. Its as old a story in Arizona as the ghost towns that decay into history.