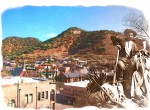 Anyone who watches the fortunes of Bisbee has to monitor Freeport-McMoRan, the conglomerate that absorbed Phelps Dodge in 2007. Now the debt gambling giant is stumbling towards bankruptcy.
The New York Times blames the oil slump for the spending spree that has forced Bisbee's corporate lords to begin selling off assets.
Will the old Phelps Dodge holdings go up for sale, along with Bisbee's mines?